2010
02.20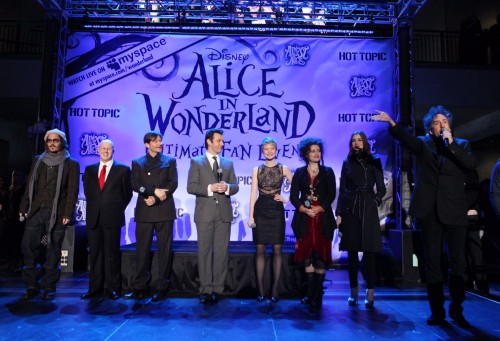 Disney's Alice in Wonderland Ultimate Fan Event was held Friday night in Los Angeles at the Hollywood and Highland Center. Sponsored by Hot Topic, KIIS-FM, and MySpace, the star-studded event included onstage appearances by director Tim Burton and stars Johnny Depp, Mia Wasikowska, Anne Hathaway, Matt Lucas, Cripin Glover, Michael Sheen, and Helena Bonham Carter.
Sadly, Avril Lavigne was not on hand to perform her new single "Alice (Underground)" from Buena Vista Records' Almost Alice soundtrack, but the record label's shitty D-list artists Metro Station, Never Shout Never, 3OH!3, and Kerli were on hand to provide the evening's musical entertainment.
Alice in Wonderland will be in theaters on March 5. To see a trailer, click here.
Check out the Fan Event gallery: