2010
06.18
Model and sometime actress Adrianne Curry thrilled virgins of all ages at the 2010 Wizard World Comic Con held in Philadelphia last weekend. The 27-year-old Cosplay enthusiast attended the convention outfitted in what I assume is a sexed-up version of Admiral Natasi Daala, an Imperial Navy officer in the Star Wars Expanded Universe.
When not signing autographs, Curry hit the floor to take photographs with some of her favorite Star Wars characters including intergalactic bounty hunter Boba Fett, an Imperial Stormtrooper, Slave Leia, and, of course, Sith Lord Darth Vader.
She tells StarWars.com:
I love Comic-Con! I have a tendency to molest and pester every stormtrooper and Fett who's unfortunate enough to cross my path. I possess a bit of an armor fetish.
Curry is best known for being the first winner on the CW network's reality show "America's Next Top Model." She has also starred in the straight-to-DVD thrillers Jack Rio and Fallen Angels.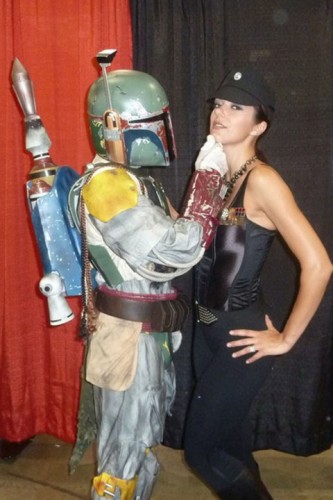 Curry is also a Twitter fanatic and uses the service to upload provocative shots of her God-given gifts of T&A. To see some of her titty-twitters, go here and here.